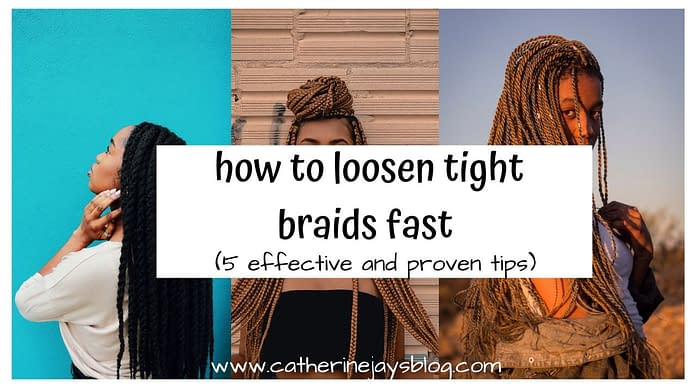 In this post I'll be listing the different ways to loosen tight braids and get relieved from that pain fast

Braids are my go to hairstyles.
But sometimes, after hours of sitting down and getting them done plus the excruciating pain that comes, it sometimes becomes okay when you start cursing and whining about never getting your hair done again.

The pain can be intense and it's more when your braids are not done properly (the pain can be compared to micro needles prickling your scalp at every angle).
But jokes on us because later we'll still go and do new braids.

I know braided wigs are a thing now but honestly it can never compare to the actual braids for me.

How do you loosen tight braids?

Not one to ramble on, I'll dive into quickly on how to loosen tight braids fast

1. Avoid wearing your braids up for several days


Not wearing your braids up immediately after getting your hair done will help loosen up the tension and reduce pressure on your scalp.

If your hair was put in an up do at the hair salon, request it be put down or take it out when you get down because this can cause strain and tension on the hair.

2. Loosening braids immediately


Here you're just loosening a little hair from the base of the braids. This can be done using a pencil or a comb or any other cylindrical object.
Take the pencil and stick at the center of the braids slowly one at a time.
If the braids are small then a smaller object is required.

3. Loosen your hair with a shower


Note: running water through your braids will shorten their lifespan. '
You can use either cold or warm water. The shower will help loosen some of the hair thereby reducing tension and giving you instant relieve.

Wrap a towel around your hair when you're done.

4. Use leave in conditioner to soothe scalp


This can be applied two ways; by either massaging the conditioner into your hair or by Spraying a leave in conditioner at the base of the braids.
These offers relieve and reduce tightness of the braids.

5. Massage our hair with oils


Take any hair oil of your choice and gently massage the exposed part of your hair.
read also:natural hair tips for beginners;lazy girls guide to virgin hair maintenance

6. Apply Moist heat

This can be done using a towel.
Place the towel into warm water and wrap the damp towel around your head for an hour.

7. Remove the braids as a last resort if they keep hurting

Health comes before beauty. If the pain is too intense, then you have to take them out.
Because the health of your scalp and hair is very important and you can get them done later but with a good stylist
Picture


How do you know if your braids are tight?

a. If your scalp is burning then that's not a good sign
b. If you can't even move your head or scrunch up your eyebrow
c. When you can't even move a braid and you have a pinching sensation in your scalp


Is it normal for braids to hurt?

Braiding may cause some discomfort and your scalp may feel tender but when it starts to become unbearable then it means that the braids are too tight.
You should communicate with your braider because this might damage your hair and scalp health.

How long should braids hurt?

Mostly after three days, the pain will go away as your hair will grow and loosen up but keep in mind that too tight braids can cause hair loss


Safety tips

Avoid returning to a stylist that braids too tight: always communicate openly with your hairstylist and when they braid too tight tell them to loosen it up.
If it continues to be a problem, don't return to the stylist for future braids, Find another hair stylist

Can tight braids cause hair loss?

Yes it can. Wearing tight braids too often or too long can cause a certain type of hair loss called traction alopecia .
if you have a type 4 hair then you should definitively read this detailed blog post on :4A,4B,4C hair type;explained in details with pictures.

Takeaway

How long do braids last?

Braids can last to up to 4 to 6 weeks. It shouldn't be kept on for more than that

How do you sleep with new braids?

Cover your braids with a silk turban or a big bonnet, this helps prevent it from becoming frizzy and keeps the braids neat.

What are some of the experiences you've had with tight braids? What did you do to relieve the pain? Feel free to comment and share this post if you found it helpful..

Xoxo,
Catherine.